The U.S. National Forest Campground Guides displayed below are separated by Forest Service Region and are packed with campground information, personal anecdotes, maps and more. You can preview the eBooks for a sample of what each contains. Added to the list of eBooks, is a Guide for camping in National Forests surrounding the Grand Teton and Yellowstone National Parks; a single National Guide that contains all of the Regional eBooks; and KISS, a cookbook for campers. Not sure what information is on this website vs. what's in the eBooks? Click here for a comparison table.
Download previously purchased eBooks

REGIONAL GUIDES
Forest Service Regions
Having trouble finding the Guide you need? Click on the region in the map below to go to the appropriate regional Guide.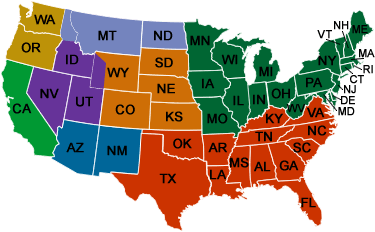 Click here
to return to top of page